Last year, I wrote a post about a simple fingerstyle version of

"Silent Night"

, but this year I'm working on a fingerpicking version of the carol. What the difference? I think of fingerpicking as an accompaniment to a song as you sing it, and fingerstyle generally as a solo instrumental version (though there aren't hard and fast rules about this and sometimes the terms are used interchangeably).

Here is a fingerpicking pattern for "Silent Night" that's not difficult, yet it sounds pretty. It's an arpeggio pattern, which means the notes of a chord are played in succession rather than together, so you will pluck one string at a time. For each chord, you should play the pattern twice.

In ¾ time (3 beats per measure, counted 1+2+3+), the pattern is:

thumb (4th string)

index (3rd string)

middle (2nd string)

ring (1st string)

middle (2nd string)

index (3rd string)

The slash marks indicate when you should play the pattern:

G

/ / / /

Silent night, Holy night,

D7 G

/ / / /

All is calm, All is bright

C G

/ / / /

Round yon virgin mother and child.

C G

/ / / /

Holy infant so tender and mild,

D7 G

/ / / /

Sleep in heavenly peace.

G D7 G

/ / / /

Sleep in heavenly peace.

It's been a while since I posted here. I think I got into a bit of a rut with my playing and wasn't sure in which direction I should go. One thing that's helped me is teaching the ukulele to beginners. I realized that I've been focusing mainly on fingerstyle solo songs, but for beginners, I needed to teach the basics of strumming, find good songs to play along with, and so on.

While preparing the ukulele lessons, I found that I really enjoyed singing again while playing--which I don't do that much with the fingerstyle solo songs in which I generally play the melody rather using the fingerpicking patterns as accompaniment. So I've been learning new fingerpicking patterns and having fun with this. It allows me to do something fancy while I'm playing

and

to sing the songs as well.

Today I downloaded Brett McQueen's

20 Beginner-Friendly Christmas Songs Fingerpicked

($19 normally, but it was on sale for $13) and am loving it. The chords are easy so you can concentrate on learning the fingerpicking patterns.

Here's a video of Brett McQueen fingerpicking one of my favorite Christmas carols, "Good King Wenceslas." The tab for this song, and a lesson that will teach you how to play it, are available for free on his site,

Ukulele Tricks.
Powered by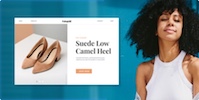 Create your own unique website with customizable templates.